International Journal of Cancer Management The Official Journal of Cancer Research Center (CRC), Shahid Beheshti University of Medical Sciences
OVERVIEW
Organization: Cancer Research Center (CRC), Shahid Beheshti University of Medical Sciences
ISSN: e: 2538-497X | p: 2538-4422
Frequency: Monthly
Description: Scope: All aspects of cancer management and prevention | Indexed in: ISI (ESCI), Scopus, and ...
Athar Ehtiati, Payman Hejazi, Mohsen Bakhshandeh, Ali Jabbary Arfaee, Eftekhar Rajab Bolookat, et al.
Research Article | 14 | 10.5812/ijcm.84158 |
Majid Samsami, Mohammad Rafiei, Aida Saki, Parham Nikraftar
Case Report | 14 | 10.5812/ijcm.111041 |
Fatemeh Zarghami, Hamid Allahverdipour, Mohammad Asghari Jafarabadi
Research Article | 14 | 10.5812/ijcm.100393 |
International Journal of Cancer Management:
Jan 2021, 14 (1), 1 articles.
Journal Features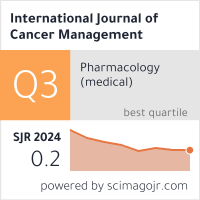 If you have any question contact us
Newsletter
Stay in touch and be informed about our special discount offers and educational letter from Kowsar.